College of Law News
Cunningham Takes On Tough Ethical Issues
January 26, 2007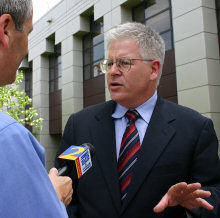 Professor Clark Cunningham talks with a reporter
about the variety of problems in the Fulton County
criminal justice system

Click here to see
Professor Cunningham's
recent comment on the ethics
of a metro Atlanta chief
magistrate who says a state
law allows him to be a full-time
judge and a part-time lawyer –
at the same time.

(From an I-Team Investigative
Report on WAGA Fox 5.)



Professor Clark Cunningham's position as the College of Law's first W. Lee Burge Chair of Law and Ethics means much more to him that just a title.

The Burge Chair was established by an endowment from the U.S. District Court for the Middle District of Georgia, using funds collected for alleged lawyer misconduct to promote ethics, professionalism and access to justice. For Professor Cunningham, the position is an opportunity to make a difference.

"The Burge Chair for me isn't simply a teaching and research appointment," he explained. "It's a chance to affect positive change in a system rife with ethical challenges."

A major focus of Professor Cunningham's work has been the widespread problem of client dissatisfaction with their lawyers, which he is convinced is caused in large part by poor lawyer-client communication. Therefore, one initiative of the Burge Chair is the Effective-Lawyer Client Communication Project, which collaborates with law schools and bar organizations around the world. This past spring Professor Cunningham was admitted to membership in The Society of Writers to Her Majesty's Signet in recognition of his work in Great Britain on this project. He is only the second American to become a member of The Society, which is charged with custody of the royal seal of the British monarchy and believed to be the oldest professional association of lawyers in the world.

Professor Cunningham has also dedicated himself to working on critical problems affecting the legal system in Georgia. Soon after arriving in Georgia in 2002, he was asked by then-Chief Justice Norman Fletcher to take over as Reporter to the Chief Justice's Commission on Indigent Defense. He produced the Commission's final report in 2004. That work led to his appointment to the Fulton County Criminal Justice Blue Ribbon Commission, charged by the Fulton County Board of Commissioners to conduct a comprehensive study of the criminal justice system of the urban county that includes the City of Atlanta. The recommendations of that Commission were unanimously adopted by the Board of Commissioners in September 2006. And in January, the County added over 100 positions to the county jail and over $5.5 million dollars to the 2007 budget, including expanded services for persons suffering from mental illness and drug addiction, and major changes in the court system to reduce case backlogs and pretrial incarceration.

"Many of these enhancements were directly related to the Blue Ribbon Justice Commission recommendations," said Suzanne Alliegro, Fulton County deputy county manager for justice systems. "Fulton County Board of Commission members cited the commission's report in making the recommendations for the enhancements."

Professor Cunningham's work to improve access to justice is not limited to service on commissions. In 2003 the Fulton County Daily Report carried a story headlined GSU Law Prof Sparks Traffic Court Reform, Frees Inmates based on his work as a pro bono attorney that revealed that the Atlanta Traffic Court was holding defendants in jail without holding the hearings required by the U.S. Constitution to determine whether there was probable cause for their arrest. In 2004 he opened the law school's first Criminal Justice Clinic, successfully representing defendants charged with everything from sleeping in the park to murder. In 2005 he taught a related course on Criminal Justice Law Reform and one of his students, Jeanette Wasdin, made local headlines through her attempts to have Atlanta's weekend jail courtroom open to the public. Before the end of the semester, the courtroom was opened to public as a direct result of her work in the course.

Ethical misconduct by judges and lawyers has been repeatedly revealed through Professor Cunningham's work as an expert witness on legal ethics and as a resource to investigative reporters from newspapers and television. In November 2006 he testified as an independent expert without compensation in the McKesson Information Solutions case, closely followed by law firms across the country, which challenged the use of a standard "waiver of conflict of interest" clause by a major national law firm. Although the firm brought in their own retained witness, the Chair of the ABA Standing Committee on Ethics and Professional Responsibility, who testified that the clause was legal, the Fulton County Superior Court agreed with Professor Cunningham that the firm had violated Georgia ethical standards.

"It would be hard to imagine a better fit for the Burge Chair than Clark Cunningham," said Dean Steven Kaminshine. "U.S. District Judge Hugh Lawson, who created the endowment that funds this chair, wanted to advance meaningful and innovative ethics and professionalism education in Georgia. Professor Cunningham has lived that mission since his appointment here at the College of Law."

For complete details on Professor Cunningham's work as the W. Lee Burge Chair, visit his Web site and learn more about law and ethics at the College of Law.